Canadian Tube Industry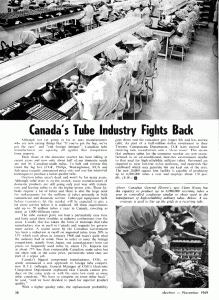 You may not be able to read this article very well, so I'll mention a few key points. Keep in mind that in Canada we have an obligation to be taxed to death and not bitch about it. Another article mentioned that the same Canadian made Television set sold for more here in Canada than it did when exported to the United States. A person could drive from Canada into the United States, purchase the Canadian made TV, drive home, and rest assured he saved himself a tidy sum of money. Ah, well, what can ya' do? The article above mentions such points of interest as…..
GE, Philips, Westinghouse, RCA, and Sylvania announced a 12% reduction of the retail pricing of their tubes in Canada to try and compete with 'imported' tube prices from Japan
It was estimated that the Canadian market bought 20 million tubes per year, while GE alone produced about 6 million new tubes per year.
The Canadian government saw the solution as a reduction on import tariffs from 20% to 15%! The Japanese tube was now averaged out to be about 25% cheaper than the Canadian tube.
GE decided they simply could not compete on a price/production comparison with the imported tubes, so they opted to offer a superior tube and justify the higher expense. Why wasn't this better-built tube offered to the public before the Japanese tube threat? Discuss this amongst yourselves.
To get an idea of Canadian tube prices during the 1960's simply CLICK HERE.